Product Description
With this Raspberry Pi HAT you can extend your Raspberry Pi with functions for smartmetering. The HAT provides an M-Bus master to which other M-Bus devices such as electricity, water or gas meters (with appropriate interface) can be connected directly.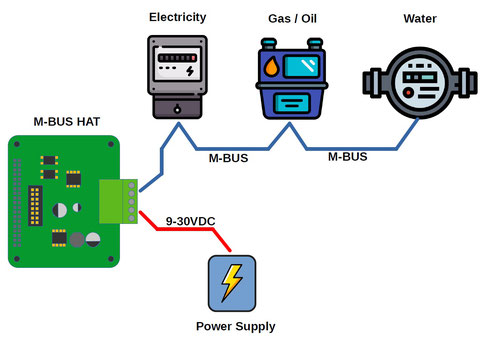 galvanically isolated M-Bus master interface
M-Bus is supplied by an external power supply (9...30V) (the 36V for the MBUS are generated internally from this voltage)
maximum 6 load units can be supplied
used UART selectable via jumper (only with Raspbery Pi 4)
optical display for transmit and receive activity via LED
connection via pluggable screw terminal
software:

For the Raspberry Pi there is libmbus for a powerful library for C++ that can be used with the M-BUS HAT. If you prefer Python, you should take a look at the pyMeterBus project.
Compatible with: Raspberry Pi B+, 2 B, 3 B, 3 B+, ​​Raspberry Pi 4 B, Raspberry Pi A+, 3 A+, Raspberry Pi Zero (W) & Zero2
Wichtige Downloads & Links
Payment methods
Your payment information is processed securely. We do not store credit card details nor have access to your credit card information.
---
Featured project proposal
Es gibt jedoch auch einen sehr aktiven Teil unserer Community mit hochqualifizierten Fachkräften, Amateurfunkern, Ingenieuren, Software-Entwicklern usw. Menschen die seit vielen Jahren Beruflich in der Forschung und Entwicklung arbeiten, und Tools wie Atmel Studio blind beherrschen, oder sogar freiwillig Eclipse als Code-Editor verwenden.
---
Weitere Projektvorschläge
---